A 90-day plan is your blueprint for what you intend to achieve in your first three months in the job. It's your road-map to success at a job interview.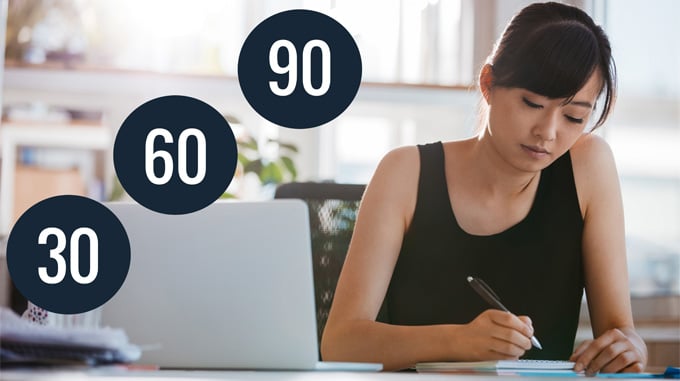 You wouldn't expect an elite athlete to pursue their dreams without a template, clearly-defined goals, deadlines or plans. The same applies to the working world. Preparing a 30, 60 or 90-day plan signals to potential employers that you're strategically prepared, driven and focused to attack the job - right from day one.
Interviewers will meet a lot of people and standing out is essential. By building a plan, you will not only impress members of the hiring panel, but it will also demonstrate your research and resultant understanding of the company and the function of the role.
You will need to answer questions confidently during the interview, initiate discussion and high-level conversation, and aim to set a picture in interviewers' minds as to your suitability and competence.
Once in the role, delivering on your 30-60-90-day plan will give your new employer some clear evidence that your hiring was a good decision on their part. This initial success will lay the foundations for career advancement and your future success .
Preparation
You should research the goals and objectives of the department and the position through the job description, company website and by asking any staff contacts you may have. Once you have a list of goals, identify the quick wins and long-term solutions to meet those goals. Identify deliverables against objectives and subdivide the tasks into achievable 30-60 and 90-day targets. Be precise about tasks, and specific about company and role details.
You should prepare a page for each 30-day section: 0-30 days, 30-60 days and 60-90 days, with a detailed list of action steps, tailored for your role.
Objectives should bring value and success to the company, not just to you. Decide how you will record and measure your progress and achievements in your new role and align it with those of the business. It is not just your manager who should evaluate your performance over the first three months in the role, you can't progress without doing this yourself or involving team-mates, too.
The strategies below are broken down into 30-day chunks that you can customise to suit your position and the organisation.
0-30 Days – Learn how things work
Assess. Expand on understanding what the company's goals and mission are by studying its strategic plan, and yours and your colleagues' roles in achieving these. See how you fit in and how you, your manager, and your team, are aligned to the framework. Investigate the company culture and core values.
Learn the company systems, software, products and services during your first month as you get settled. Identify training needs and show how you can do as much as is relevant of this on your own without taking up colleague's time.
Strive to understand your boss's expectations and build professional relationships with co-workers, stakeholders, customers and clients. Listen.
30-60 Days – Step up your game
Now is the time to accelerate building your own brand by stepping on from an active listening role to a more interactive and proactive approach by communicating and contributing. Showcase what you do well and demonstrate the part you can play in the company's growth and achievements.
Solve some problems and generate some quick wins - you should be awarded positive feedback.
Communicate effectively and demonstrate versatility; take on more tasks, including some that are not on your job description.
60-90 Days – Go for it!
By now you have grown into your role and made it your own. You are demonstrating your initiative, generating ideas, handling bigger projects and leading others. It is time to be proactive, armed with ideas, solutions and strategic plans.
During your third month you will receive performance feedback, implement new projects and tasks and your manager's expectations may well rise. It's time to assess the successes and challenges so far, adjust targets accordingly, then prepare a plan for your next three months in the role.

Global Sports. (2019, April 10). PREPARING A 90-DAY PLAN FOR YOUR JOB INTERVIEW. Retrieved March 27, 2020, from https://intelligence.globalsportsjobs.com/in-demand-career-opportunities-in-sports-business?utm_campaign=b2c content download&utm_content=121777738&utm_medium=social&utm_source=linkedin&hss_channel=lcp-1530101