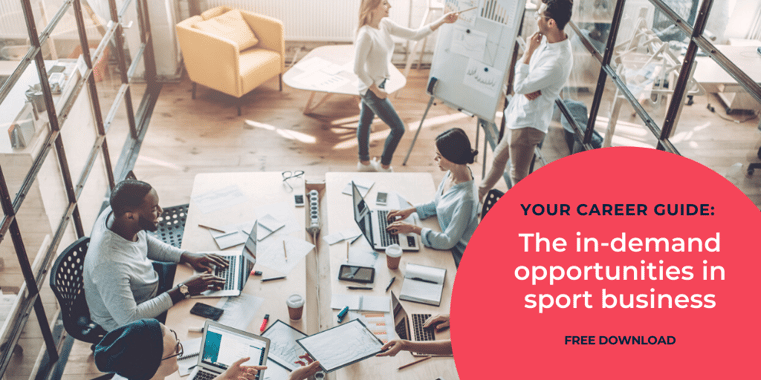 Sports business is rapidly changing under the influence of new technologies, macro-economic shifts, social and cultural movements, and other trends. These are feeding demand for new skills and job roles.
Understanding the direction in which the landscape is moving is a critical step for professionals of all levels to be able to tailor their career paths to meet the future demands and build skills accordingly. We have analysed current and future patterns in the marketplace to provide you with a guide that identify some of the most in-demand roles to support you building a 'future proof' career in sport business. The guide focuses on the following in-demand functional areas within the sports industry, but you can go ahead and downloaded the full guide here.
Digital content production and management
From controlling a team's Twitter feed, to creating the digital content strategy for a globally renowned sports league, and all the roles in between, digital content production and management is an enormous area of work in today's industry.
Data analytics…for performance
The 'moneyball' hasn't stopped rolling since it was started by Billy Beane and other early sports analytics pioneers. Today, data analytics has a critical role in elite sports performance and opportunities in performance analysis are likely to grow in the years to come.
Data analytics…for business
Commercial decisions within sport are increasingly driven by insights provided by data analysis. At teams, leagues, federations and agencies, experts able to analyse TV audiences, social media engagements, market-sizing data, ticket sales and myriad other sources of data, are in hot demand.
Business development in emerging markets
The global expansion of the sports industry is creating a host of opportunities for sports professionals, particularly those with links to developing markets. Global, blue-chip sports properties need staff to develop their presences and drive business in new markets. And as nascent sports industries emerge, they need talent to develop their own properties and businesses.
Legal and governance roles…for anti-doping and corruption
Federations and other bodies charged with governing sports recognise the need for in-house expertise when it comes to tackling doping and other forms of corruption. This has fuelled an increase in demand for lawyers and other compliance officials in recent years.
Legal and governance roles...for data privacy and protection
Data has become the oil on which modern sports commerce works. The smartest organisations recognise that it's a volatile substance that requires expert handling. We have seen a rise in the number of jobs postings for legal and governance professionals that are able to advise and guide organisations on how to handle data with due regard for privacy.

Global Sports. (2019, August 21). IN-DEMAND CAREER OPPORTUNITIES IN SPORTS BUSINESS. Retrieved March 27, 2020, from https://intelligence.globalsportsjobs.com/in-demand-career-opportunities-in-sports-business?utm_campaign=b2c content download&utm_content=121777738&utm_medium=social&utm_source=linkedin&hss_channel=lcp-1530101